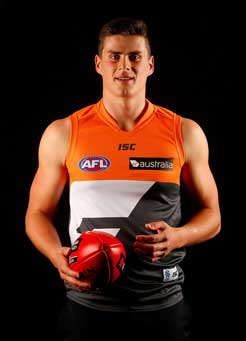 THE TOM Boyd highlights reel that we've all been salivating over in the lead-up to the NAB AFL Draft has largely highlighted his play at representative level.
Here's Boyd clunking a big mark for Vic Metro. There he is kicking a big goal for the AFL-AIS Academy team, giving every indication that he is your prototype power forward.
But Tom Boyd is now a club footballer, property of Greater Western Sydney. Barring the highly unlikely return of State of Origin or All-Star footy, from here on in we will only see Boyd playing footy for his club.

So what sort of player have the GIANTS selected? Is he a wallflower or a natural leader? Is he content to stay to the side and do his job, or is he one of those 'fabric-of-the-club' types?

These are important questions. For as much as representative teams are there to win, and as exceptional as the standard of football might be, they are partly about the individual players showcasing their wares.

It is nice when Vic Metro knocks over Vic Country, or travels across the country to knock over Western Australia, but for Boyd it is now about how he performs for the Giants, where he will be based for 44 weeks each year, so it is illustrative to find out the sort of player he was when around the Eastern Ranges.

The first point to consider is that even though he was regarded as the consensus No.1 pick pretty much from the end of last year's draft, the Ranges chose Ben Cavarra as captain.

Cavarra is a jet himself, a ball-magnet who won this year's Morrish Medal, and those around the Ranges said he was a great choice.

But Boyd was a fine clubman all the same. "A ripper kid," said one observer who watched every match Boyd played for the Ranges this year.

"It was interesting that they didn't name him captain, but he was very inclusive, always there to help and give advice.

"The other players really respected him. They loved him."
Tom Boyd is now property of Greater Western Sydney and he is unlikely to let them down. Picture: AFL Media
Boyd's size, speed, leap and marking have long been regarded as close to the complete package and according to AFL national talent manager Kevin Sheehan, he'll be adding leadership to the mix before too long.
TAC Cup football is a passing parade. Team lists change massively from year to year. Take aside family, friends and talent scouts, and there aren't too many more in attendance.
But in the six games he played, Boyd gave them plenty of reasons to come to the football. He kicked 27 goals, took 46 marks and every week was a highlight. They still talk about the game at Wangaratta against the Murray Bushrangers when he kicked five goals in the forward line before moving into the ruck and dominating.
"An absolute student of the game," said the regular Ranges watcher.
"There are players who you have to teach when to lead and where to run to, but he just knows.
"He has a solid arse and legs, and he holds back, holds back and then knows to run to the ball at precisely the right time."
"He understands the game."
Boyd wasn't the enforcer on the Ranges. That role was played by fellow draft Michael Apeness, who some at the club believed played better the tougher the going.
"Tom wouldn't give one back," the observer said.
Boyd ruptured knee ligaments and suffered significant bone bruising after landing awkwardly during a marking contest in the NAB AFL Under-18 Championships match against Western Australia.
He didn't play again until the TAC Cup Grand Final, a thumping 112-point win over the Dandenong Stingrays. Boyd passed a fitness test to play and was spent by half-time but kicked four goals early and set the scene for the premiership win.
"He was really assertive that day," the Ranges supporter said.
"He knows the bloke upstairs has looked after him and given him this unbelievable physique to play league footy.
"He'll do the right thing by the GIANTS ... and he'll do everything he can to excel. He's a great student of the game."
Have your say on your club's draft haul. Tweet on draft night with the hashtag #afldraft and we'll publish the best responses.