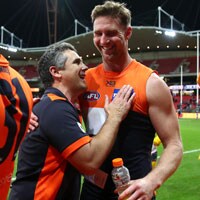 GIANTS coach Leon Cameron's selection risks paid massive dividends in Saturday's win over Collingwood, but he wanted all the focus to be on his players post-match.
9:40pm Jul 20, 2019

Despite an entire leadership group sitting in the stands, the GIANTS showed their heart and never-surrender attitude to win a huge battle against the Magpies at GIANTS Stadium.
8:08pm Jul 20, 2019
Calling all GIANTS and Collingwood fans, we need your help this weekend to pay tribute to Heath Shaw ahead of his 300th game.
3:17pm Jul 19, 2019