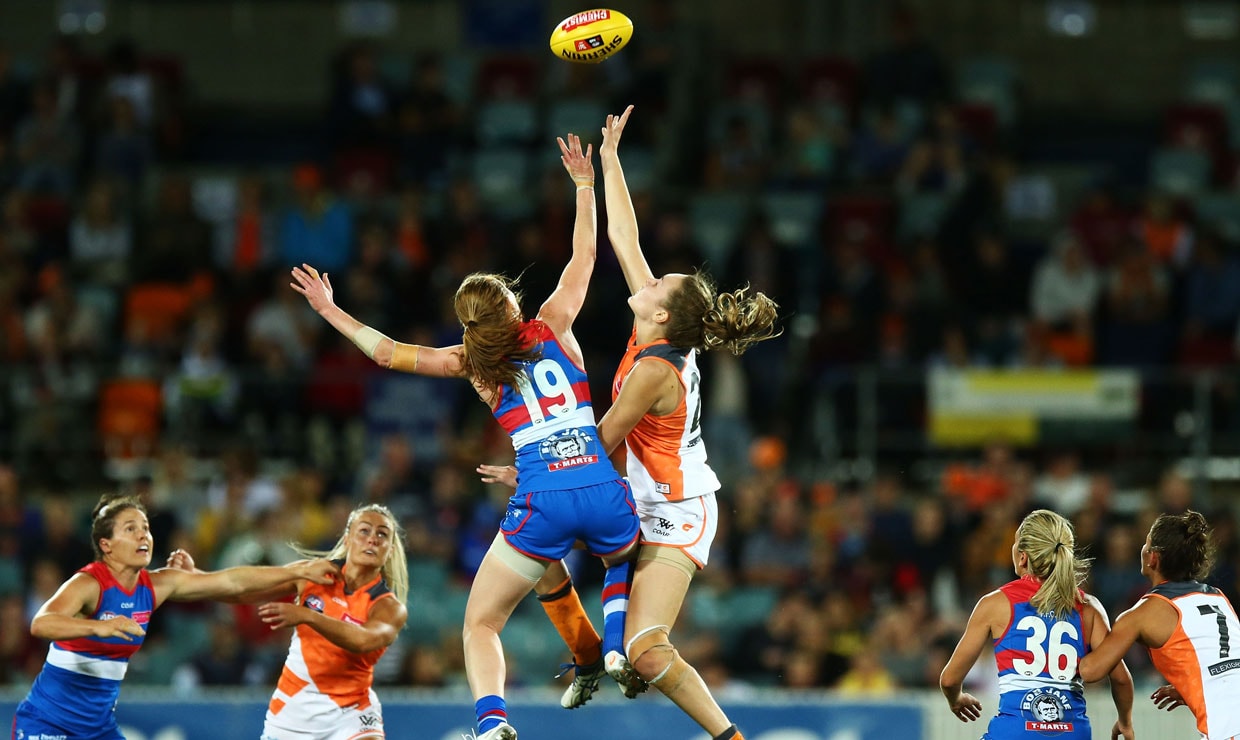 Much can happen in a year.
The GIANTS met the Western Bulldogs on a Saturday night at UNSW Canberra Oval in the final round of the inaugural AFL Women's season.
Whoever claimed the four points on that night would avoid finishing bottom of the AFLW ladder.
It was a must-win match.
The GIANTS lost by 32-points in front of 6,460 people and went home with the wooden spoon.
Now, almost exactly 12 months later, the GIANTS and the Western Bulldogs meet again at UNSW Canberra Oval.
It is a must-win match.
The stakes are higher than the corresponding fixture last year.
It's not a wooden spoon that hangs in the balance. It's a shining silver cup.
The injury-riddled Bulldogs sit on top of the ladder, while the GIANTS are in fourth spot, nipping at their heels.
Neither side can afford a loss, especially the GIANTS. A loss would all but spell the end of their grand final hopes.
The Bulldogs could lose and still cling to top spot, such is their superior percentage, but in such a short, cut-throat season, losses cannot be afforded.
The GIANTS are in fine form. They were dominant in their win over Fremantle on Saturday, outrunning and out-skilling the Dockers in every department.
Young ruck Erin McKinnon equaled the record for most hit outs in an AFLW match with 39, and must be in All Australian contention.
Midfielder Alicia Eva is ranked fifth in the competition for average disposals, while Courtney Gum continued her outstanding form, collecting 16 disposals and laying eight tackles in Saturday's win.
The GIANTS goalkickers have been in fine form too, with Phoebe McWilliams and Jacinda Barclay inside the competition's top 10 goalkickers list, and Rebecca Beeson and Cora Staunton hitting their straps of late.

The Bulldogs haven't left home in a fortnight and, since their close loss to Adelaide at Norwood Oval, have been dominant.
If the GIANTS forwards looked impressive, then the Western Bulldogs forwards are almost next level.
The Bulldogs have three players inside the top five goalkickers, with Brooke Lochland kicking nine of her 11 goals in the past two matches.
However, the Bulldogs are without Katie Brennan (ankle), Daria Bannister (knee) and Izzy Huntington (knee).
In their absence, Emma Kearny and Ellie Blackburn have stood strong, averaging 19 and 17.8 disposals per game respectively in 2018.
WHEN AND WHERE: Saturday March 10, UNSW Canberra Oval at 7.10PM
TV AND RADIO: Click Here
LAST TIME THEY MET: Round 7 – Saturday March 18, 2017 UNSW Canberra Oval
GIANTS 3.2 (20)
Bulldogs 7.10 (52)
Goals: Beeson, Barclay, McWilliams 1.
THE FIVE POINTS:
1 Erin McKinnon is in All Australian form. The 19-year-old ruck is averaging 23.8 hit outs per game in 2018 and last week equalled the AFLW record for most hit outs in a game, notching up 39 against Fremantle. McKinnon is also averaging 3.4 disposals and 2.4 tackles a game, seeing her among the elite rucks in the competition. McKinnon could be in for a big weekend with the entire Bulldogs team averaging just 19.4 hit outs per game.
2 Phoebe McWilliams' return of one goal two behinds in the win against Fremantle is somewhat an anomaly for the usually accurate goalkicker. McWilliams has kicked 14.4 in 12 games for the GIANTS. Her scoring shots chronologically have read like this: one behind, eight goals, one behind, six goals, two behinds. Incredible.
3 The Bulldogs' Brooke Lochland leads the competition's goalkicking with 11 goals. Seven of those came in her side's win over Carlton and two in their eight point win over Collingwood last Sunday.
4 If the conditions are fine in Canberra on Saturday night, we could be in for a bit of a shootout. The Dogs average a competition-high 7.2 goals per game in 2018, while the GIANTS average 4.4 goals, ranking them fifth. The GIANTS will be buoyed by the fact that they had six goalkickers against Fremantle last Saturday.
5 The GIANTS must beat the Bulldogs in the air. The Dogs have the top three marking players in the competition. Lochland, Kearney and Blackburn average 4.6, 4.4 and 4.2 marks respectively per game. Only one GIANT is among the top 20 for marks: Jacinda Barclay with 3.4 marks per game.