Emma Quayle is an award-winning journalist and draft expert who spent 16 years covering AFL for The Age newspaper before joining the GIANTS' recruiting team in February, 2017. As one of the industry's most respected writers and talent spotters, Quayle has a unique perspective on the GIANTS' recent crop of draftees. In the first of her insightful six-part series, Quayle sits down with selection 56, Zac Langdon.
Zac Langdon didn't need to go anywhere. After finishing high school in Perth he was set up back at home in Dampier, the port town in the Pilbara where he had grown up. He had a good job as an apprentice electrician for Rio Tinto. He was close to his parents, his brothers and his girlfriend, and had just won the best and fairest award for his local team, the Sharks. "Everything was fine. Everything was going well," he said. "But it wasn't really where I wanted to be."
It wasn't what he wanted to be doing, either. When Langdon moved into the boarding house at Guildford Grammar ahead of Year 11, he was the first kid in his family to go away to study. He kind of wanted to be at a more academic environment, but he really wanted to be there for footy, and it was a tough move on both fronts: the other kids' friendship groups were well and truly set, and difficult to break into. He was too small and never really quite good enough to make it into Guildford's first-choice team and because of school missed the start of preseason training with the Swan Districts colts, making it almost impossible to show them what he could do.
Be GIANT in 2018. Renew or sign up as a GIANTS 2018 Member today!
"It wasn't easy. I didn't really know what I was in for and it was the toughest two years of my life, I reckon, not knowing anyone," Langdon said. "Being from the country it was just really difficult and I suppose I kept pretty quiet at the start, just trying to fit in and meet people and start to make some friends. It happened, but it took a long time. And when I went there for footy and that wasn't going how I wanted either, it just meant things got a bit hard." Still, every time his mum called and asked if he wanted to come home, Zac told her no. "She asked me the question, but it wasn't really me, to just go home. I wanted to stick it out and see what happened. And I think, in a way, that going away and being at school and having to figure it all out has been a blessing. It helped me grow up, and work out how to fit in."
It was an experience that made his next decision much easier. Langdon spent two years at home after graduating Year 12. He beat out more than 1000 other applicants for his apprenticeship, one that would have set him up quickly given the money that gets paid in the mines. He worked night shift - from 6pm until 6:30 the next morning - but still made it to training, getting bigger, stronger and fitter. He spent his spare time on the oval, too, working on all of his skills. "It took a couple of years," he said, "but the biggest thing with me was probably confidence, and believing that I could do it. It was gradual, but after a while I just kind of thought, 'why not, I want to give footy another go and I reckon I'm ready this time."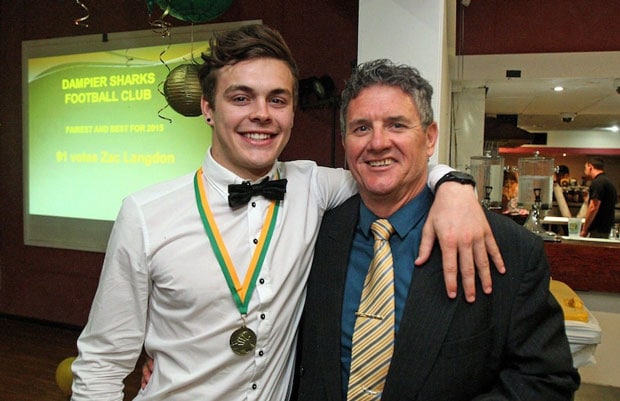 He had help. Langdon knew Larry Kickett, a West Australian football legend whose daughter was going out with Zac's brother. Kickett put him in touch with Darcy Coffey, the football manager at Claremont, who on Kickett's recommendation invited him down to do some preseason training leading into the 2016 season. To do that meant walking away from work, though they liked Langdon so much there that they put his job on hold for six months, just in case this whole football thing didn't work out. "I went to Perth for three months and I knew by then that whatever happened I wanted to stay and give it a fair crack," Langdon said. "They were really good to me, but I had to ring them up and say thank you for everything, but I'm not coming back."
Playing in Perth suited him. The first few days were hard – "I knew no-one, again" – but he loved playing to a much more structured game plan than he was used to back home, forcing his way into the senior line-up, holding his spot there and trying to become someone who could help the team win. Langdon went to Claremont hoping and aiming to be drafted and neither season played out as smoothly as he hoped they would, or thought they would need to. He missed matches with a spider bite in 2016, and had to sit out another chunk of games in 2017 after being concussed. He also combined his footy with early starts and long days, finishing off his apprenticeship with a new full-time job in Perth.
All the time, he hoped he was doing enough to be looked at by AFL clubs. Not that he told anyone. "I definitely wanted to get drafted but I kept it pretty quiet coming in to Claremont. I didn't want to be that person who walked in saying they were there to get drafted," he said. "They weren't the sort of people to laugh at that, they were always really encouraging with everything, but it wouldn't have been the right thing to do. So I kept it to myself, but that's why I was there. That was always my ambition and I think it's the same dream for most players in the state leagues, I think we all want to go as far as we can."
Langdon felt like he was improving - that the work he had done on his kicking was paying off, that he was getting fitter all the time and that he had found a spot that suited him in the forward line. Still, hearing early last season that AFL clubs were actually watching surprised him. On the one hand it was hard not to feel excited by that fact alone, "and ring my mum, my dad, my brothers and tell them all about it." On the other it made him want it even more. "I was just so happy to even think people were looking. I was straight onto the phone to someone every time saying 'far out, can you believe this?" he said. "It did give me confidence, but then I thought 'I'm glad they're talking about me but all it means is I have to work harder.' I thought, 'if I seriously want to get a look in, then I need to keep proving myself.' I think knowing clubs were interested made me work towards something, not just assume it was going to happen."
His attitude impressed people, as much as his football. People vouched for Zac without hesitation when we called around. And when we interviewed him at the end of the season it was clear why: it was impossible not to sense his dedication, appreciate his work ethic and know that if we chose him he would give our club everything he had. But he couldn't know that, not then. He watched the draft at home with his mother, a fly-in fly-out worker who splits her weeks between Perth and Dampier. His father, who flies helicopters in the mines, came down for it too. His girlfriend Eli, who moved with him to Perth two years ago, will come to Sydney in the new year too. The wait to find out whether or where he would get his chance felt like a long one, while sitting in front of the TV. But it really wasn't, at all. Not when you think about how long ago he started working towards it.
"Time was going so slowly on the night, just sitting there and waiting to see what happened. I was so nervous and as soon as my name got read out I almost went into shock I reckon, but this is where the hard work starts and this is what everything was always about," Langdon said. "You never know, some decisions change your life and if I hadn't made the decision to go to school, or if I hadn't moved down to Claremont, this might not ever have happened. I've been really lucky but I also feel like I've done my part. I did a lot of work and it's paid off, but there's a bit more to come, I hope."