The GIANTS will spread across Western Sydney, Canberra and the Riverina in February and March as part of their 2018 AFL Community Camp.
It's the third year in a row the GIANTS will head into their local community in Western Sydney as well as visiting southern NSW and the ACT for the seventh year.
The GIANTS will spread far and wide across their own backyard of Western Sydney on Wednesday, February 14.
The regional visits to Wagga Wagga, Griffith, the far South Coast and Central West will be held on February 28 and March 1 before Canberra welcomes the GIANTS on March 2.
The ACT visits will be held the day after the GIANTS host Collingwood at UNSW Canberra Oval on Thursday, March 1 to kick off their JLT Community Series campaign.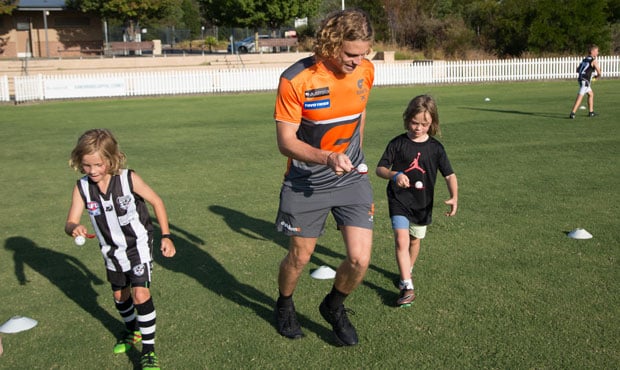 GIANTS Chief Executive David Matthews said it was an exciting time to take the game all across NSW and the ACT.
"The AFL Community Camps is a terrific initiative and is always an exciting time of the year for our players and staff," he said.
"We're proud of the huge amount of work our playing group does within the community every year, and the annual camp is a fantastic opportunity for people right across our region to get to know our players better and experience what the GIANTS are all about.
"We're particularly excited to be spending our seventh successive year in the nation's capital to kick off a huge season in Canberra that includes three premiership season games, our JLT Series opener and another AFL Women's game."
The entire GIANTS playing list will visit schools, hospitals and local football clubs as part of the camp which will see more than 750 AFL players visit communities across Australia.