When the GIANTS traded for Alicia Eva in last season's AFLW trade period, they weren't just getting the Magpies' vice-captain and club Best and Fairest runner-up but also an accomplished coach with eyes on reaching the highest level.
26-year-old Eva hit the track with her new GIANTS teammates last week as the AFLW squad commenced pre-season training at the WestConnex Centre.
While feeling like "the first week at a new school", Eva said she was relishing her new opportunity in Sydney.
"It's been fantastic, I moved up to Sydney three and a half weeks ago and had our first training week last week so it was good to tick the legs over and meet all the girls and the coaching staff so I'm pretty happy to be here," she said.
Eva played every game of the inaugural AFLW season for Collingwood, being named Collingwood vice-captain prior to the 2017 season.
She finished second in the Magpies' Best and Fairest award and was also named Players' Player as well as being named in the preliminary Virgin Australia All-Australian squad.
One of the highest-profile moves of the first female trade period, Eva arrived at the GIANTS as part of a complicated three-club deal.
"It was a really tough decision to make at the time," Eva said.
"There were lots of things I had to weigh up and consider and many conversations I had. The thing that really stood out to me was the culture of the club up here and you hear people talk about a family culture and it very much feels like that.
"You see the boys walking around, you see the netballers walking around and of course you've got the AFLW girls and it feels like an elite environment.
"The most important thing for me was how this move will benefit my footy and it's certainly going to be a challenge moving out of Victoria and I know I'll be up for playing a different role up here.
"With my coaching background there were some opportunities moving up here to further develop that. Whilst playing is my priority at the moment, it was probably too good of an opportunity to turn down."
In addition to being one of the AFLW's elite midfielders, Eva is a highly-regarded coach. She was the head coach of the Calder Cannons TAC Cup Girls program and was the first female to ever head coach a male high performance side when she led the Calder Cannons U15 boys team.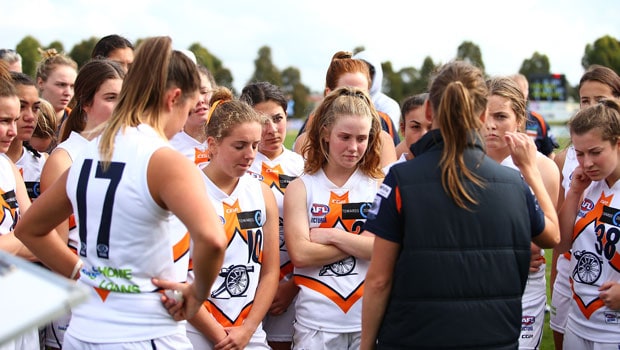 Eva will ply her trade as a coach with the GIANTS Academy during the AFLW season and move into a role with the club's NEAFL team after her own season has finished.
"I've been coaching for quite a few years now," she said.
"I'm only 26 but I guess 10 years ago there was no AFLW so if someone asked me what my future was going to be in footy I would have had to have said coaching because there wasn't that top pathway for us."
While battling some first-day nerves, Eva has settled well into her new club and has the fortune of already knowing many of her teammates.
"I'm lucky enough to know quite a few of the Victorians - in fact all of the Victorians - and then a number of the girls I've also come across in various state games," she said.
"I felt like the new kid on the block but there's a few of us in that position and now we've gelled really well in the space of a week and it's going to be a really rewarding season I can tell already."
Be GIANT in 2018 and become an AFLW Supporter Member, click here for more.