Veteran GIANTS midfielder Ryan Griffen can sum up his 2017 season with six simple words.
"It has been a tough year," he said.
After a solid pre-season the 31-year-old was sidelined with an ankle injury he suffered in the club's round three win over North Melbourne in Hobart.
Be GIANT. Sign up or re-new as a GIANTS member in 2018.
It was an injury that was initially set to rule the 241-gamer out for 10 weeks, but turned into a season-ending injury.
"It's probably been my toughest year to date," Griffen said.
"To have a really good pre-season and to set yourself up for hopefully a good year and then to go down in round three was disappointing.
"Then to get back to nearly playing again and to re-injure it the weekend before you're meant to return was really flattening.
"I'm trying to forget about this year, move on and refresh over the next few weeks, and then come back and really have another crack at it."
Griffen had been in with a chance to make his return late in the season as the GIANTS pushed towards a second successive preliminary final.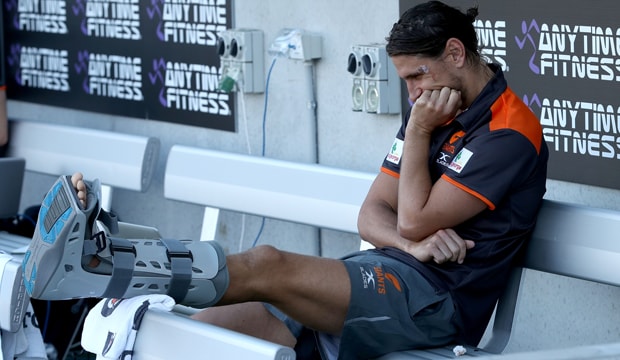 The hard-running midfielder played 70 per cent of a scratch match against the Adelaide Crows' reserves but found it tough returning from 20 weeks on the sidelines.
"I just wasn't running properly, I had these pains going through my ankles so we decided to rest it," he said.
"It feels great now, the swelling has gone right out of it and I think it just needs a bit more rest then I'll start building up and hopefully start running again."
There was light in all the dark for Griffen as the veteran strengthened his bonds with his teammates that were alongside him in the rehabilitation group.
"You're all going through the same stuff, the same mental demons so I created some really special relationships with some of the younger blokes," he said.
"Will Setterfield did the same injury as me on almost the same day so we went through that together and created a really special bond.
"That was really good for me during those first six to eight weeks."
Griffen will be aiming to make his return in the GIANTS' first JLT Community Series fixture against Collingwood at UNSW Canberra Oval on Thursday, March 1.