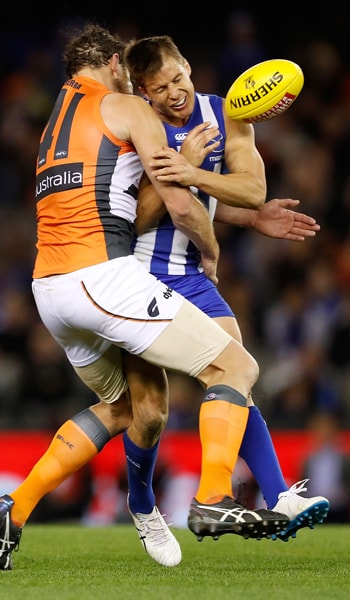 Shane Mumford's retirement brings an end to one of the game's most colourful careers, with the ruckman's battered body unable to take him into an 11th season in 2018.
Mumford bows out after 10 seasons and 172 games with Geelong, the Swans and the GIANTS, a premiership and a best and fairest.
AFL.com.au was lucky enough to be given an exclusive insight into the moments that made Mumford after he announced his decision to hang up the boots on Friday, and he was as honest as ever in recalling his memories.
When he arrived at Geelong via the rookie draft in 2007, Mumford brought a legendary reputation with him, one of a man renowned for devouring a truckload of sausages on a day out in his hometown of Bunyip.
"It's grown a lot of legs over the years, it was a one-off thing that I did at a mate's birthday party. Every time I grabbed another drink I grabbed a couple of sausages, and I had more than a couple of drinks that day. I couldn't put an exact number on it but I'm guessing around the mid 20's in about four or five hours. I think someone added it up and worked out that I'd consumed about a week's worth of calories that day."
After playing 18 regular season games, Mumford was bitterly disappointed at missing selection in Geelong's 2009 Grand Final side, which went on to defeat St Kilda in an epic encounter. In search of more senior opportunities, Mumford left the Cats for Sydney at the end of 2009 and played a major role in the Swans' 2012 flag win over Hawthorn.
"To miss out on the ultimate success was a bit disheartening but after that I made the move to Sydney which was a great decision and career move for me. It meant that I was the No.1 ruckman and if I hadn't moved clubs, who knows if I would have turned into the player I became."
He nursed a sore hamstring into the 2012 decider and was subbed out of the game early in the final term, replaced by Luke Parker.
"I was running around on one leg that day for something different, but I call myself the 'The Difference'. We were down by a couple of goals, then I got subbed out and we went on to win the game, so call me hashtag 'The Difference'. To win a premiership at any level is special, I won them at Bunyip and it's just as exciting and the ultimate achievement.
Plenty in the footy world were shocked when Hawks superstar Lance Franklin walked out to continue his career in Sydney at the end of 2013, especially when he crossed to the Swans and not the GIANTS. Buddy's arrival on mega-money left an out-of-contract Mumford without a new deal and he was forced to move to his third club.
"I was shocked to start with. I don't think anyone saw it coming and I think only two or three people at the Swans knew what was going on. I was hurt, but the move to the GIANTS has turned me into a much better person. The Swans had so many distinguished leaders like Adam Goodes, Brett Kirk, Jude Bolton and Ryan O'Keefe, those older guys, so I just flew under the radar. But when I got to the GIANTS I had to be setting an example and it settled me down a lot. It forced me to step up and become a leader, and it developed me as a person."
Mumford became a GIANT and won the club's best and fairest in 2014, but could easily have replaced Franklin in brown and gold after the Hawks also chased his signature.
"The two clubs came after me at the time but I decided on the GIANTS because I loved Sydney and I loved the thought of being there for something new, and being able to help out such a great young list of kids. I ended up winning a best and fairest and that's something I'll never forget. I think my mother has that Kevin Sheedy medal locked up in a safe somewhere at home with my premiership medal."
One more time for old time's sake. #NeverSurrender pic.twitter.com/QyjEpuwmfC

— GWS GIANTS (@GWSGIANTS) October 20, 2017
He's one of the most physical big men we've ever seen, and there's little doubt that Mumford loves the contested side of the game. But it's THAT hit on Cats midfielder Mitch Duncan from round two, 2016, that sends shivers down the spine of anyone who sees the bump.
"I just saw a loopy kick come over his head and as soon as I saw that I decided I had to go, and everything fell into place. The ball came loose so I was too busy trying to get that to worry about him, and I didn't even realise he was still down until a couple of minutes later. I got Kieren Jack with a ripper years ago when I was playing with Geelong, back in the days when you could run through people and not worry about getting suspended. He didn't see me coming and I left him on the ground coughing and wheezing, and that was probably a better one. I don't feel too bad they're out there trying to get me at the same time, so if someone is there to hit cleanly and it helps my team, then I think its part of the game."