Who better to talk about a players' path to 50 games than his own teammates? That's just what we did as we approach Aidan Corr's milestone in Sydney Derby XIII.
Just a couple of weeks on from re-signing with the club, the defender gets set to play his 50th game in one of the biggest games of the season when the GIANTS take on the Swans on Saturday night.
We only heard from the man they cleverly call Apples recently, as he explained why it was an easy decision to put pen to paper to stay a GIANT until the end of 2020.
"I jumped straight at it like a lot of the other boys have lately," he said.
"I was rapt when the offer was put there as it was the best thing for me and my football.
"I love it here in Sydney and coming to work every day with 40 ripping blokes made it very easy for me to sign.
"Early on we were getting smacked. The backline was just watching the ball sail over our heads and it was pretty tough.
"Starting to win together and appreciating all those little wins has started to bond us together and we're enjoying it together."
While not the biggest of milestones, this one is one worth celebrating for the irish-born 23-year-old who battled hard; first to get into the team, and then to stay there after a 2016 season cruelled by injury.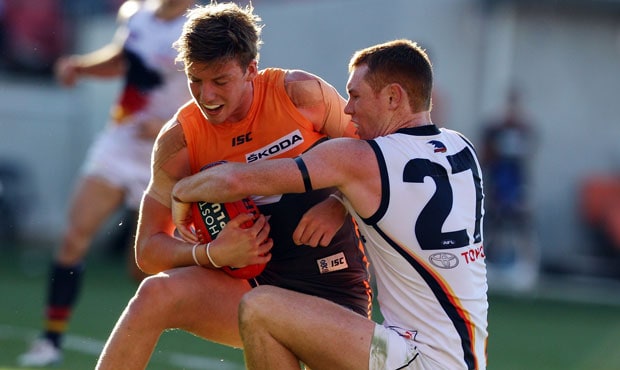 Sealed with a kiss, fellow 2012 draftee Lachie Whitfield paid tribute to a GIANT on and off the field.
"Aidan's been a super popular figure in our team since his arrival in 2013," Whitfield said.
"He has had an injury interrupted 50 games in which he has been able to prove his worth on the field, especially this year, and an uninterrupted four years off the field where he's proven himself with class banter - whether it be in the change rooms or at the pub.
"Congrats on 50 games mate xx."
Those who spend the most time with Corr would be his fellow backmen, who have some messages for the 50-gamer.
Heath Shaw's was less complimentary: "He has a short fuse and bad temper like fellow Irishman Conor McGregor but can't back it up with the scissor kick or haymaker, he's a pretend Diamond Valley boy."
Adam Tomlinson seemed jealous of Corr's relationship with the coach.
"One of the most loyal friends anyone could ask for but behind the hard and aggressive exterior he can portray, he is somewhat of a teacher's pet who would doing anything for the head coach," Tomlinson said.
"All jokes aside he is a legend of a bloke and I love the man to pieces. But seriously Corry, stop sucking up to Leon."
It was left to the co-captains for the kind words for one of the club's most popular faces.
"Aidan is a great teammate," said Phil Davis.
"One thing he has been able to show throughout his career so far is that he is a loyal mate and somebody you love to play with."
Callan Ward chimed in: "Out of all the hotheads I've ever played with, Apples is up there.

"He's somebody who I believe will be one of the best defenders in the competition soon. He is the definition of determination and I love playing with him."
While there's a long career ahead for Aidan Corr, there's no doubt he's already made a lasting impact as a GIANT.
CLICK HERE to get your tickets for the game now.